Baby Kraken - Free Pattern

One of my favorite makes are our Kraken Babes! I wanted to share my love for their squiggly tentacles with a free pattern! It is a very easy pattern for those who know the basics of Amigurumi and works up very quickly.
I also want to show ya'll what tools I enjoy using on a daily basis. None of the links I provide in this post are affiliate links (lol, I'm not popular enough.. sorry!). I just wanted to show you where you can easily see/get it.
Materials:
Worsted Weight Yarn - Any kind is fine, I use Acrylic Yarn.

G Hook or F Hook - My favorite are the Clover Soft Touch Hooks.

Small amounts of Polyfil

8mm Safety Eyes - I get mine from Glass Eyes Online.

Yarn Needle - My Favorite are the Jumbo Darning Needles from Clover.

OPTIONAL: Safety Eye Insertion Tool, you can get one at Glass Eyes Online.
Abbreviations:
MC = Magic Circle
SC = Single Crochet
HDC = Half Double Crochet
DC = Double Crochet
INC = Increase
BLO = Back Loops Only
DEC = Decrease
 Body:
Row 1: MC (6)
Row 2: INC x 6 (12)
Row 3: SC, INC (18)
Row 4-6: SC x 18 (18
Row 7: SC, DEC (12)
Row 8: SC x 12 (12)
Row 9: SC  x 12 (12)
Add eyes between Row 8 & 9 with 2 stitches apart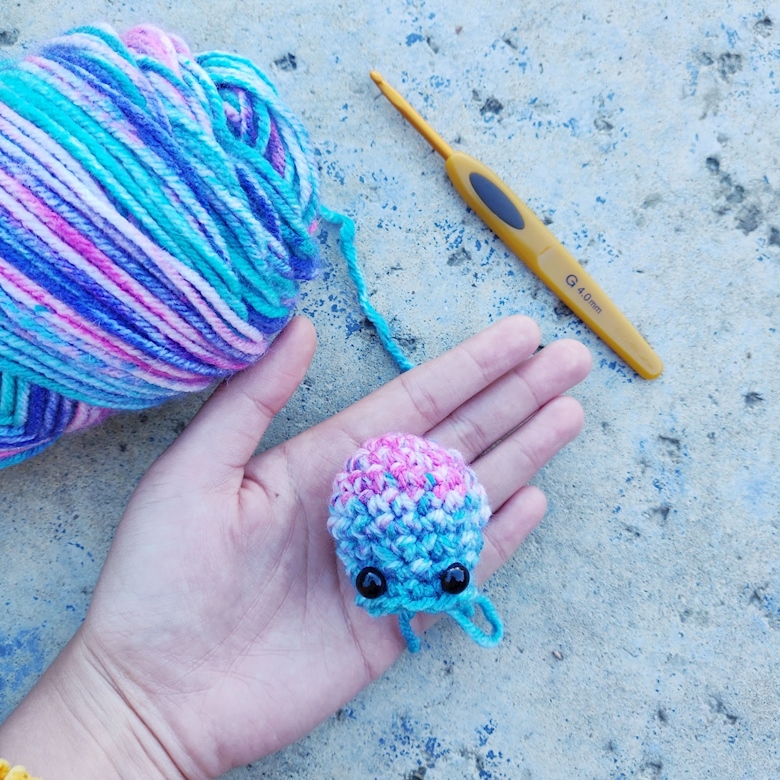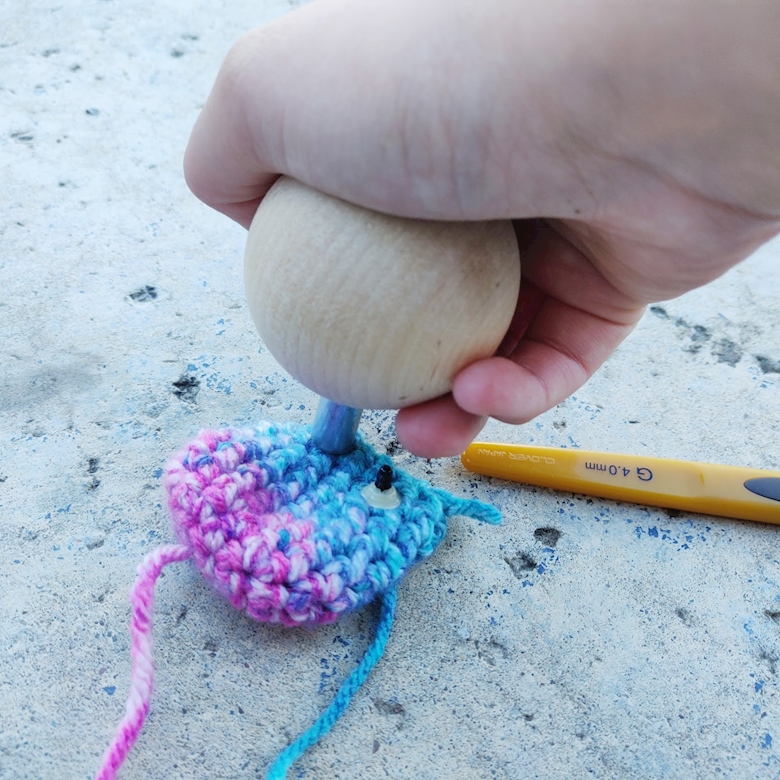 I turned my piece inside out to use my insert tool. These washers are SUPER tiny, so this totally helps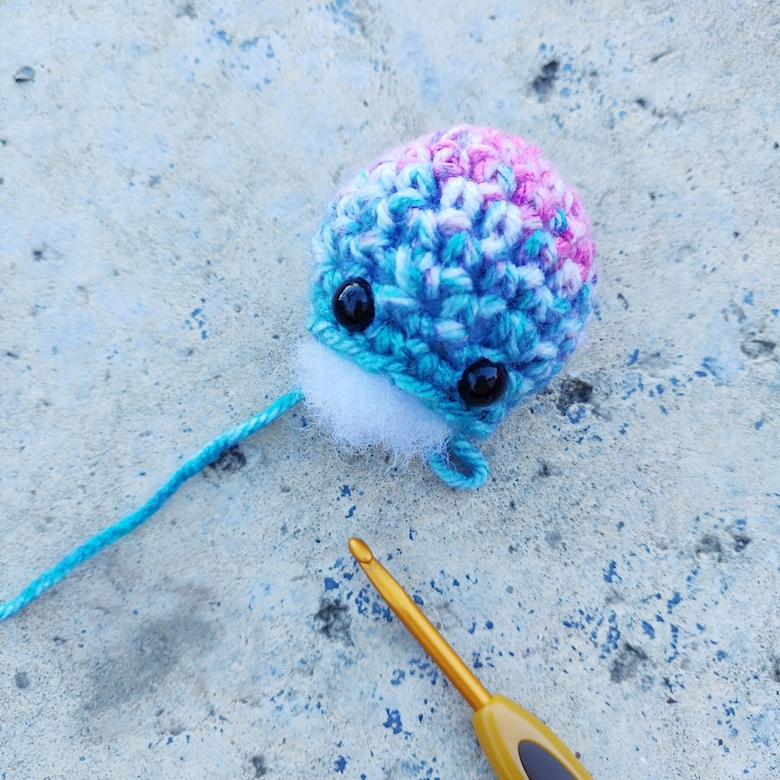 Turn outside back out & stuff.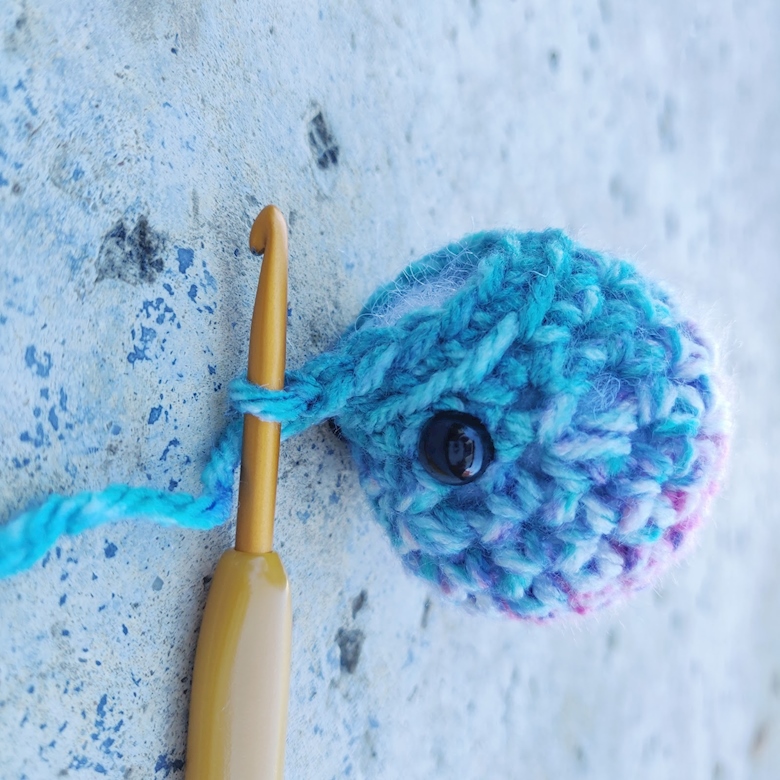 Row 10: SC x 12 in BLO (12)
Row 11: DEC all the way around (6)
FO, leaving a long tail for weaving in the hole.
Tentacle (6 in Total):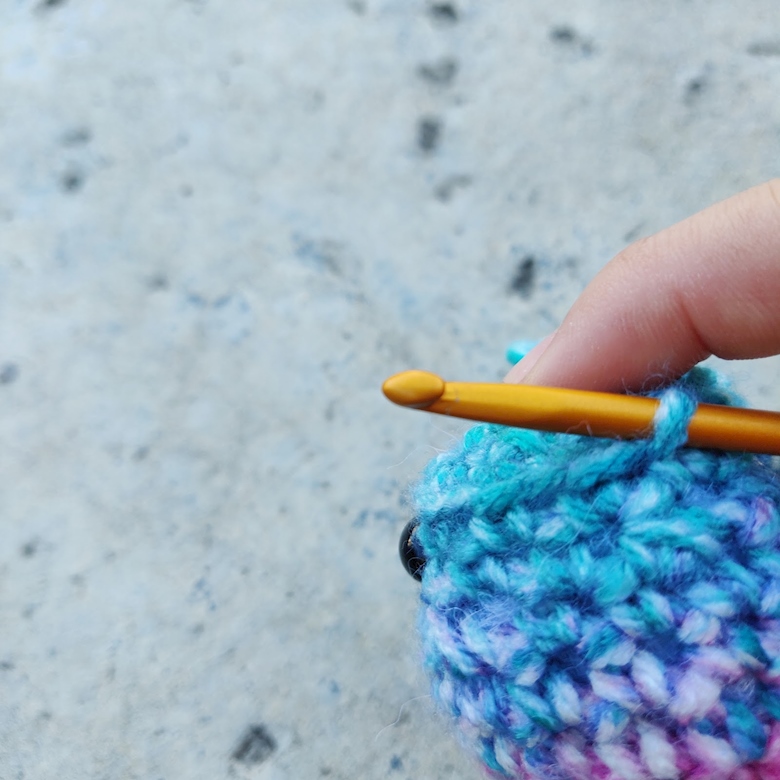 Hook up in one of the Back Loops (I usually start in the back)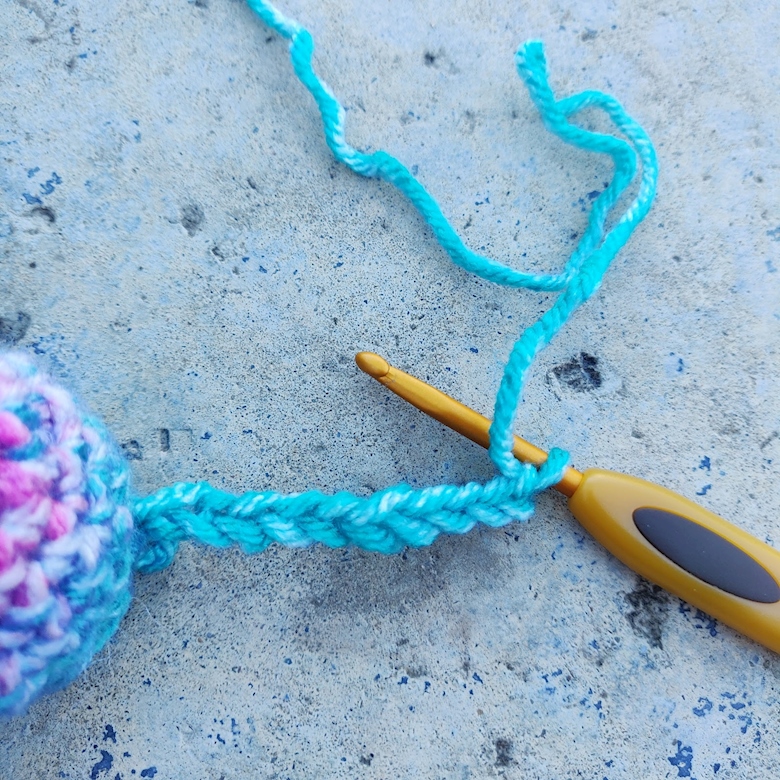 Chain 10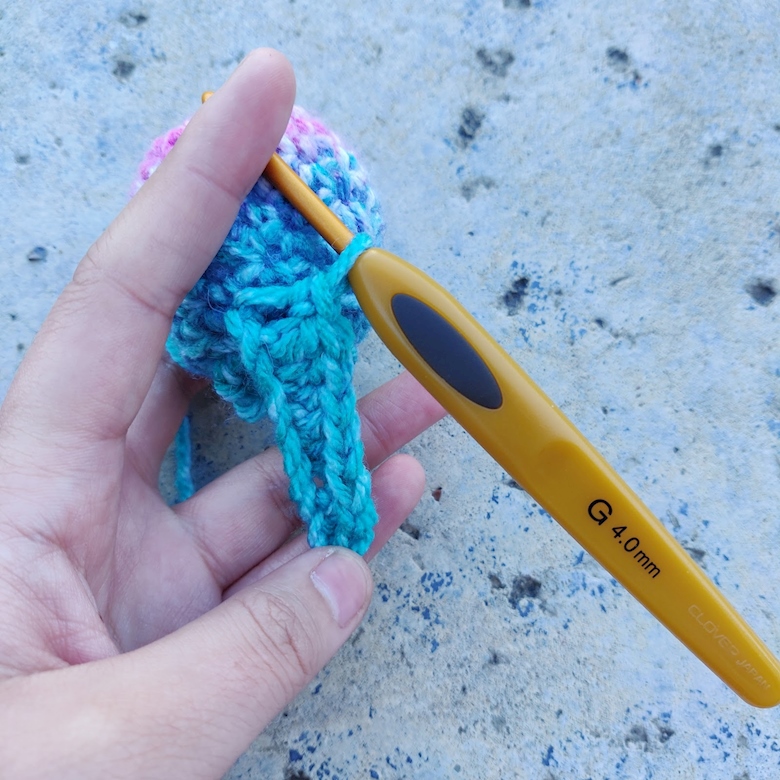 On the chain, SC x 3, HDC x 3, DC x3
You just finished your first tentacle! 
From here, Skip the next BLO on the body and then Single Crochet into the next stitch. This will anchor your tentacle back to the body.
From here, you'll repeat the above steps. 
Chain 10, SC x 3, HDC x 3, DC x 3, skip next BLO & SC.
You will end up with 6 leggies.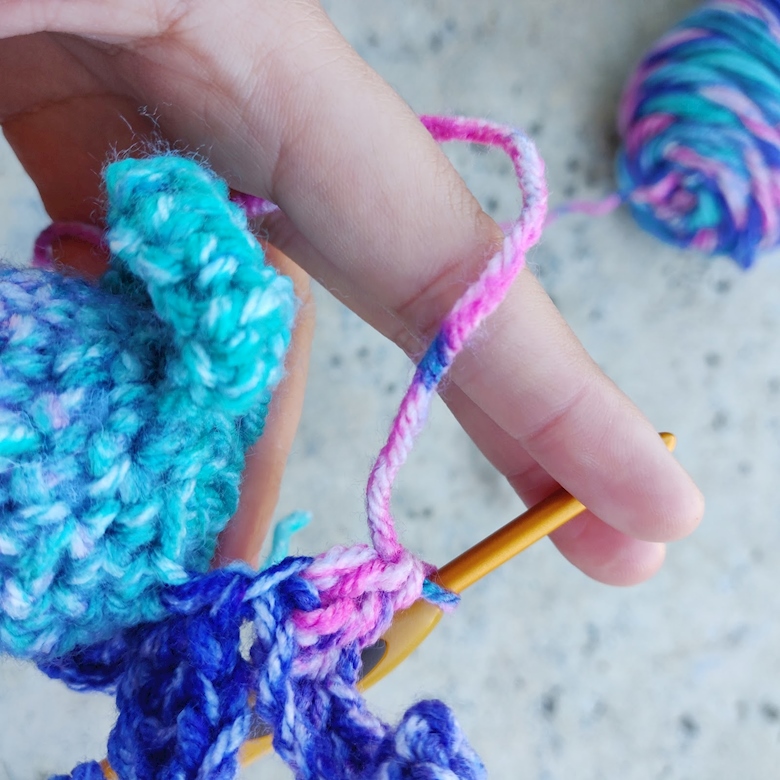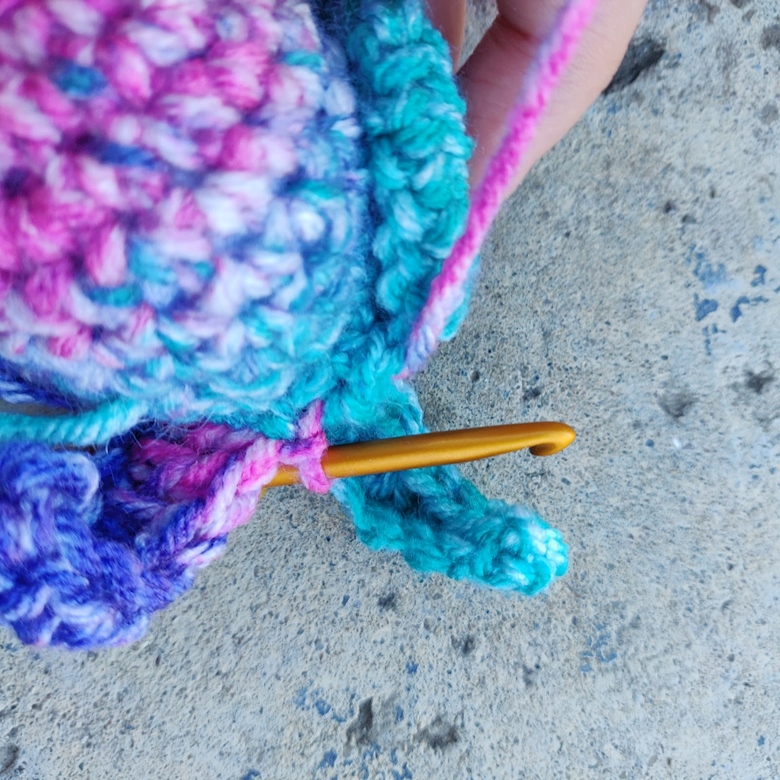 On your last tenticle, slpstch back to the first BLO.
You can now Finish off & Weave in your Ends.
OPTIONAL: You can take about 10ish inches of yarn & your yarn needle to really secure the tentacles to the body. You don't have to do this, it's all preference!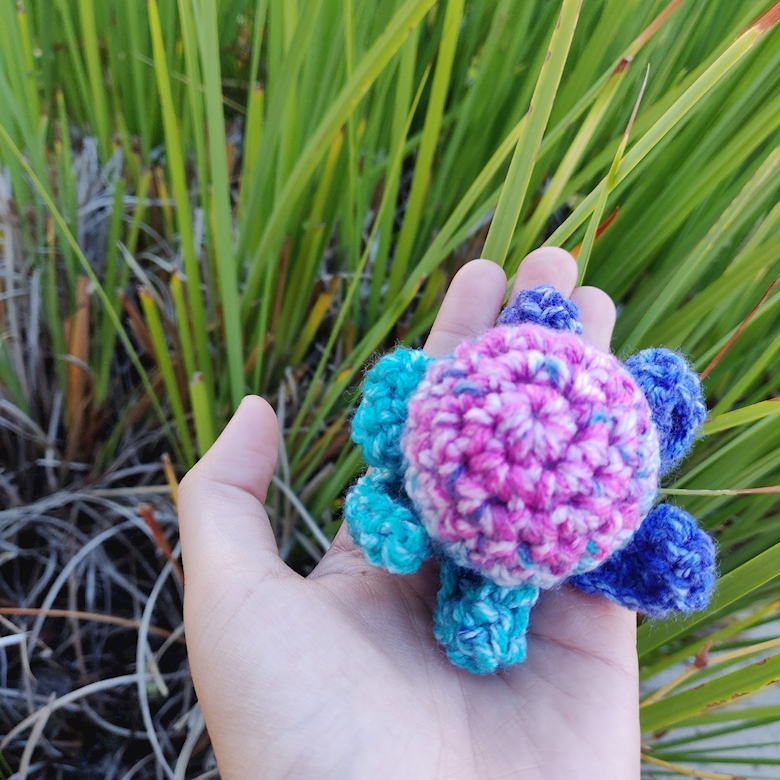 And.. That's it! You're done!
These little guys are super easy to workup and you can use an array of colors to get a cool effect. I love using multicolored yarns with these guys because each one turns out differently.
If you make one (or many) of your own, I would LOVE to see them! Please tag me on Instagram or Facebook so I can share your work too! 
If you would like to continue to support us & want more free patterns, feel free to donate to our Ko-Fi Jar! Ko-Fi donations helps us continue to provide free patterns & new merch for you!
This pattern, including text and photos, are copyright to Yarn Circus & www.yarncircus.com. Do not redistribute, repost, or resell this pattern in any type of way as it is against the law. Please feel free to sell your finished items in a small scale as long as you credit back to Yarn Circus as the original designer on your online listings and tags at in-person shows. If you have any questions, feel free to reach out to me through the CONTACT page.