FREE PATTERN: Easy Velvet Scrunchie

I wanted to add my pattern for my velvet scrunchies here since I plan on switching website hosts soon. Please, Enjoy!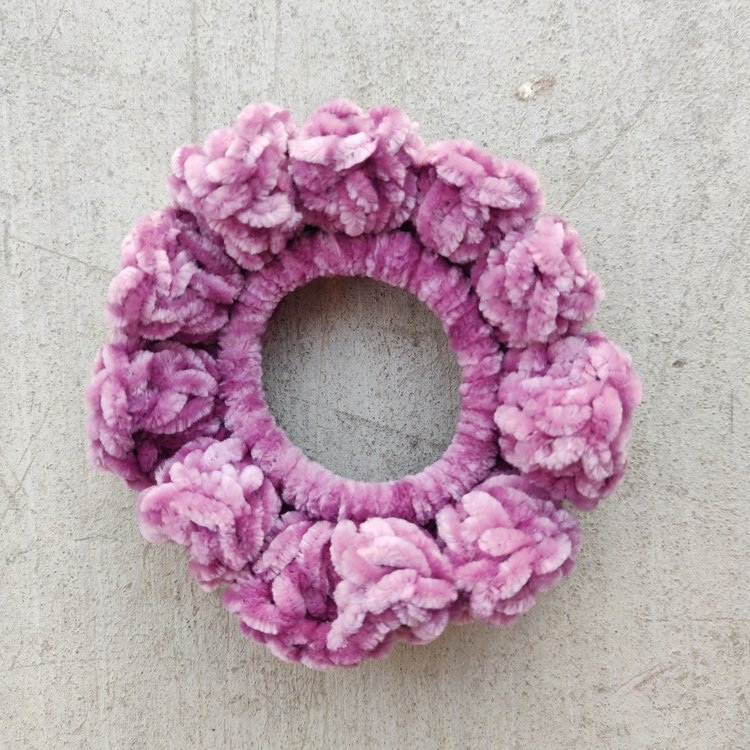 With the new wave of the importance of accessories in the fashion industry, Scrunchies have definitely made a comeback! Here is a quick and easy pattern to make ouchless velvet scrunchies.
Why Velvet? 
Velvet is extremely soft on the hair &  brings a unique look to your scrunchies. It's classy and at the same time, perfect just to throw on if you need to put your hair up!
The Shorthand: 
SC = Single Crochet 
DC = Double Crochet
F.O = Finish Off
What you need:
If Bernat Baby Velvet or Lion Brand Vel-Luxe:
I Hook (5.5mm)

Ouchless/No Metal Hair Ties. I use GOODY Ouchless

Scissors

Yarn Needle
If Bernat Velvet or Similar Weight:
J Hook (6.0mm)

Ouchless/No Metal Hairties. I use GOODY Ouchless

Scissors

Yarn Needle

Around the Hairband, SC x 22-25 (depending on how ruffley you want your scrunchie). Join with first stitch.

Chain 2. In next stitch, DC x 3.

In the next Stitch, DC x4.

You will repeat this sequence all the way around the hairband- DC x 3 in one stitch, DC x 4 in the next. When you get back to the start, Join with first stitch & F.O. Weave in your ends & cut off the excess.

 

Annnnddd… Thats it! Super easy & Super Gorgeous!! These are definitely quick to make & a best seller at craft shows, conventions, and fairs. They also make great freebies for orders if you're into that!

 

If you make one (or many) of your own, I would LOVE to see them! Please tag me on Instagram or Facebook so I can share your work too! 

Love what we do & want more free patterns? Please consider donating to our tip jar!! 

This pattern, including text and photos, are copyright to Yarn Circus & www.yarncircus.com. Do not redistribute, repost, or resell this pattern in any type of way as it is against the law. Please feel free to sell your finished items in a small scale as long as you credit back to Yarn Circus as the original designer on your online listings and tags at in-person shows. If you have any questions, feel free to reach out to me through the CONTACT page.